Posted by:

Paula Golka
Post Date:
May 20, 2020
---
How to Turn Sovereign Funds into Profitable, Sustainable Investment
Paula Golka
Sovereign Wealth Funds (SWFS) are public investment vehicles, owned and managed directly or indirectly by governments. They're set up to achieve a variety of macroeconomics purposes. As institutional investors, SWFs have the fiduciary duty to act in the best long-term interest of their beneficiaries.
SWFs are a major source of capital that have the potential to become the source for profitable and sustainable investment. Through the emergence of sovereign wealth funds, we are witnessing a major shift in the wealth of nations. World growth today is no longer driven by OECD countries, but from emerging ones.
"OECD countries, which five decades ago concentrated 75% of world GDP, today account for less than 55% of global wealth. In 2007, the share of foreign direct investment from OECD countries decreased to 85%, from nearly 100% in 1970."

(Santiso, J. (2008). Sovereign Development Funds: Key financial actors of the shifting wealth of nations, OECD Development Center)
The same year, emerging market economies traded more between each other than with OECD countries.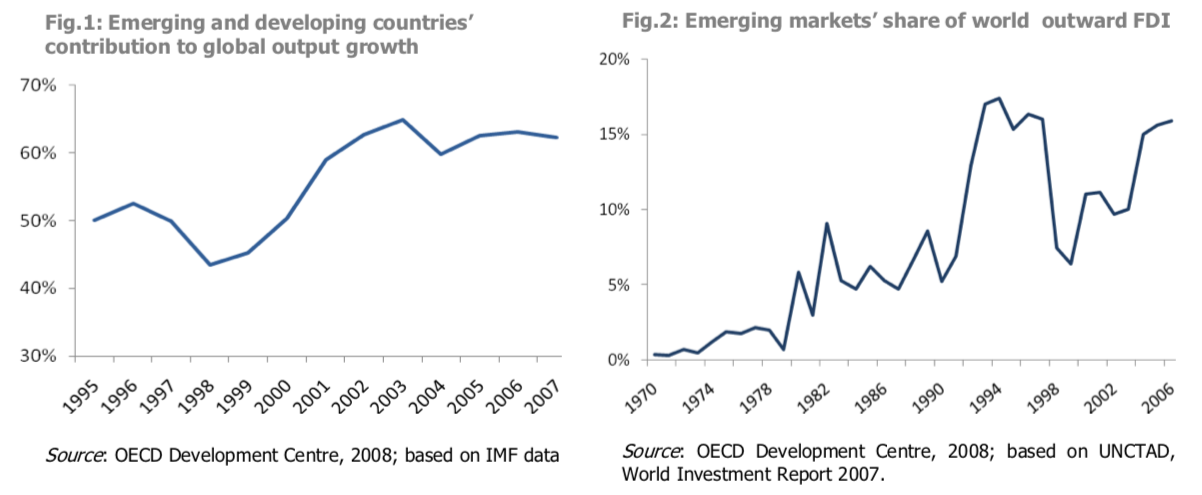 A great majority of sovereign wealth funds are placed in either oil exporting countries or East Asia. SWFs invest both in real and financial assets, ranging from stocks, bonds, real estate, precious metals and hard infrastructure, to alternative investments such as private equity, hedge funds, and venture funds.
In September 2015, the 193 country members of the United Nations agreed on the "2030 Agenda for Sustainable Development" which included 17 Sustainable Development Goals.
"SDGs [Sustainable Development Goals] set a strong focus on specific sustainable development actions, in particular goals such as climate action, affordable and clean energy, clean water and sanitation, responsible consumption and production, strong institutions, or innovation and infrastructure, point to a new array of goals that should be achieved to obtain durable and sustained development".

Capapé, J, PhD; Santiváñez M. (2017). Sovereign Wealth Funds: Sustainable and active investors? The case of Norway, Tufts University
Sovereign Wealth Funds & Sustainable Development Finance
Sovereign wealth funds play an important part in sustainable development finance. The role of SWFs to finance and invest in climate-related projects and to enhance global governance standards is essential. They hold specific features that make them relevant players in the sustainable economic future.
SWFs are well positioned to help in filling the investment gap needed to achieve the SDGs in the coming years. These funds are long-term investments; their goals and time frames align well with the Sustainable Development Goals.
More sovereign wealth funds are investing in private markets including infrastructure, "a crucial sector for achieving SDGs given the large investment gaps in transportation, energy, utilities".
SWF's by definition are connected to national governments. Developing joint efforts with nation-wide strategies would amplify the impact on Sustainable Development Goals both domestically and regionally.
Green finance projects have environmental strengths but also potential weaknesses and pitfalls. Therefore, they require the issuer to have effective governance procedures to deliver the desired impact.
The Center for International Climate Research (CICERO) has developed a methodology named "Shades of Green" to evaluate how well a green bond aligns with a low-carbon resilient future.
How Green is your Project? The Shades of Green Methodology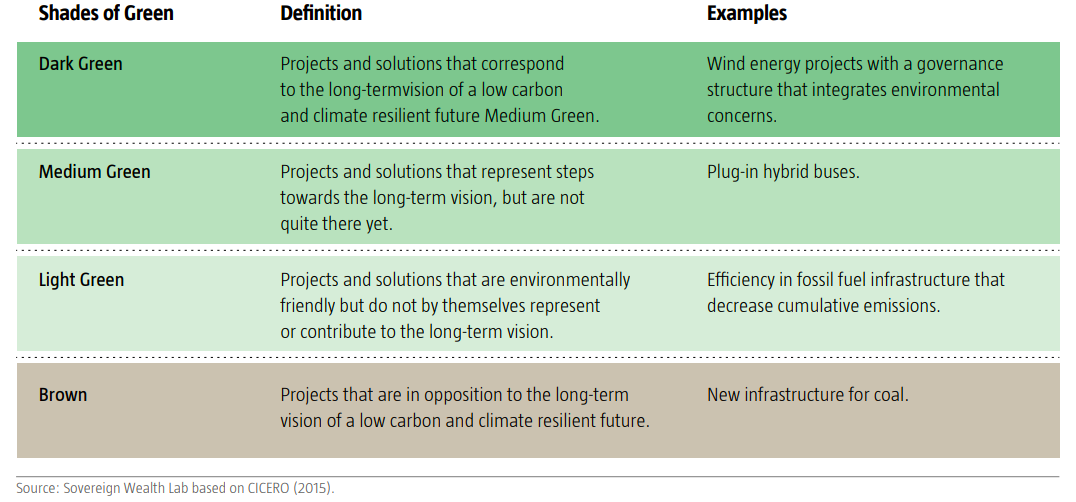 Investing in a green future is becoming profitable. Transformation, LLC assists clients in making sure their initiatives are sustainably sound and highly profitable. We develop capital initiatives and projects that improve existing processes and systems.
In the past, the process of sustainable investing often fell short of its goals. We have the experience and the know-how to re-design the process for better impact, greater system efficiency and higher returns on strategic investments and initiatives. See a few sustainable project examples, or contact us to discuss how we can you reach your impact investment goals.