Posted by:

Victoria Brodsky
Post Date:
August 19, 2020
---
3 Ways to Invest in Water
Victoria Brodsky
Water is an essential resource we can't live without. This makes it a great commodity to help diversify your investment portfolio, especially as concerns around water scarcity increase. If you're interested in investing in water and adding it to your portfolio, consider these three investment options:
#1: Water ETF's
Water ETF's are exchange traded funds that focus on investments in the areas of water treatment, water sales, and water distribution. This includes manufacturers of water related products, water purification companies, and municipal-level water treatment organizations(1).
Investopedia chose these top water ETF's as the 'Best Water ETF's for Q4 2020:'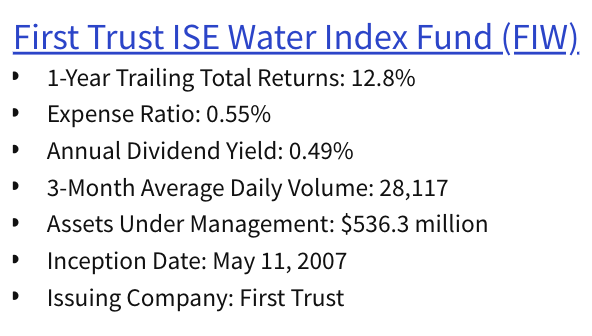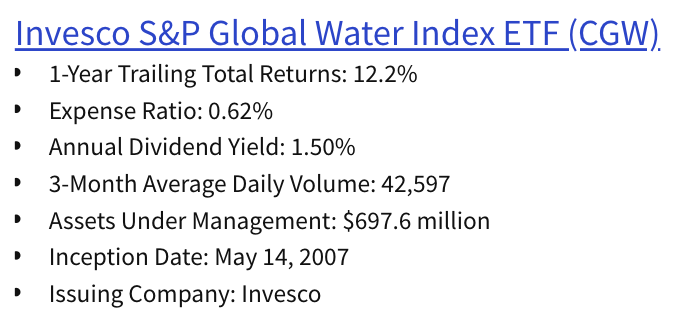 Source: https://www.investopedia.com/articles/etfs/top-water-etfs/
#2: Look at the Holdings of Water Indexes
An alternative way to track water investments is to review the holdings of water indexes whose purpose is to track different types of water related investments.
Here are three water investment indexes to explore:
Dow Jones Water Index

Roughly 30 water-related stocks
Minimum market capitalization of $150 million
Both international and domestic water-related companies

The S&P 1500 Water Utilities Index (of the Standard & Poor's 1500 Utilities Index)

Contains two companies: American States Water (NYSE: AWR), a water and electricity company, and Aqua America (NYSE: WTR)

ISE-B&S Water Index:

Roughly 35 water-related stocks
Companies focus ranges from water technology, distribution, purification and filtration
#3: Private Equity or Venture Capital Investments in Water
If you're interested in a riskier water-related investment you can look at private investment opportunities through companies focused on water treatment, purification, and sustainable water solutions.
Here are three water-focused private equity groups worth studying: