Posted by:

Paula Golka
Post Date:
July 7, 2021
---
The Sustainability Dilemma & the Potential for Businesses to be Part of the Solution
Paula Golka
The Sustainability Dilemma
The urgency and profound attention to environmental issues has changed the narrative from "climate crisis" to "climate emergency" in just a matter of years. The world population is increasingly growing, which in turn has a tremendous effect on our planet regarding natural resources.
If consumption was to be kept at the current level, 1,7 Earths would be required to provide enough resources and absorb our waste (The World counts, 2021). Moreover, the world faces a plastic issue. By 2050, oceans are expected to contain more plastic than fish (Ellen MacArthur Foundation, 2017). Further, greenhouse gas emissions caused by humans are the key contributor to global warming, with the decade of 2011-2020 being the warmest ever recorded (European Commission, n.d.).
These environmental circumstances have an impact on society's stakeholders such as governments, businesses, and consumers. Accordingly, 196 governments agreed within the 2016 Paris Agreement on the goal to limit global warming below 2°C compared to pre-industrial levels (UNFCCC, n.d.).
Next to governments' efforts, businesses strive to be part of the solution. More and more companies are founded out of environmental motivations. Internationalization and market entry strategies are essential for firms in order to expand and continue to grow as an operation.
This, however, bears a potential conflict between traditional business practices of global trade and production, and sustainable business making.
Consumers weigh their previous buying experiences with personal values, attitude, and beliefs to arrive at a final purchase. As a result, the products that correspond with personal values and environmental beliefs are often preferred by the consumer.
In fact, taking care of the planet remains top of mind for consumers in 2021. As the concern for climate change is growing amongst consumers, the consumer behavior trend has moved towards lifestyles adjusting to lowering the carbon footprint and choosing more sustainable products, particularly in Western countries.
Consumers' main action concerning environmental issues is plastic reduction (Euromonitor, 2021). There are various good reasons why plastic is a key component of currently existing packaging solutions. It offers an easy way of protecting and preserving goods effectively. Moreover, its light weight is favorable in terms of efficiency, as it requires less material to package items compared to alternatives such as glass or aluminum (American Chemistry Council, 2021).
However, this comes at a cost that receives more and more public attention. 380 million tons of plastic are produced every year with 10 million tons of plastics ending up in the oceans. Half of the plastics are designed to be single use. Plastics are everywhere, which is the reason why humans end up eating 40 pounds of plastic in their lifetime (Plastic Oceans, n.d.).
Plastic isn't going away, but consumers have the power to make alternative choices. Driven by ethical consumerism, industry leaders are directing more attention towards rethinking the role of plastic in packaging, to minimize the environmental impact of their products and capture the conscious consumer (Ellen MacArthur Foundation, 2019). Start-ups demonstrate new ways forward by utilizing their flexibility and creative energy to develop innovative and disruptive solutions.
The German Startup Everdrop is part of a new generation of newly founded businesses, aiming to incorporate the sustainability issue at the heart of its business. The company was founded in 2019 in Munich, Germany with the mission to transform cleaning products into sustainable products with environmentally friendly ingredients and plastic free packaging in order to protect the environment.
The founders discovered the negative impact most traditional household cleaning products have on the environment due to the amount of plastic, greenhouse gas emissions, and chemicals they consume. Out of this personal concern, they decided to develop their own sustainable cleaning product.
Cleaning Products and Sustainability
Cleaning products can be sustainable in a multitude of ways. In general, we identify three ways of how cleaning products can be more sustainable.
First, cleaning products can follow the mission to be zero-waste products. Most bottles are made of plastic, and the current strategy of the majority of companies is to implement a circular waste model, where the plastic is recycled and used for production of future packaging. However, due to the previously explained problem around plastic, critics claim that companies should focus on completely avoiding plastic.
Second, cleaning products can be environmentally friendly in terms of their ingredients. Harsh chemicals are frequently used in cleaning products (EPA, n.d.). While this provides efficient product performance, it has a negative consequence on the environment, as these chemicals are flushed down the drains and end up in our water systems.
Moreover, the problem around microplastics in consumer products has gained public attention. While used in cleaning products for functional purposes, the small particles eventually end up being released into the environment and eaten by animals (ECHA, n.d.). Avoiding chemicals and microplastics and replacing them with non-toxic natural ingredients is therefore a trend which is more and more appreciated by consumers and followed by manufacturers such as Everdrop.
Finally, conventional cleaning products are responsible for a lot of emissions due to the fact that they contain about 90% of water which is shipped unnecessarily over long distances.
Everdrop addresses the issue of single use plastic by making it their mission to reduce plastic waste in the household. The firm produces tabs that can be dissolved in water in order to produce a cleaning solution. In this way, the use of plastic is completely avoided. The tabs are packaged and sold in small recyclable paper sachets.
Moreover, Everdrop sells robust and reusable spray bottles which are made out of glass. In addition to the packaging benefits, the product cuts 95% of a conventional cleaning product's emissions. Traditional cleaning products contain 90% of water. With Everdrop's cleaning tabs, the transportation of water is avoided, and consumers can simply use tap water to dilute the tab. Moreover, the tabs and bottles are produced in Germany, which keeps transportation routes limited.
Everdrop is part of a generation of new businesses that aims to fulfill different sustainable development goals.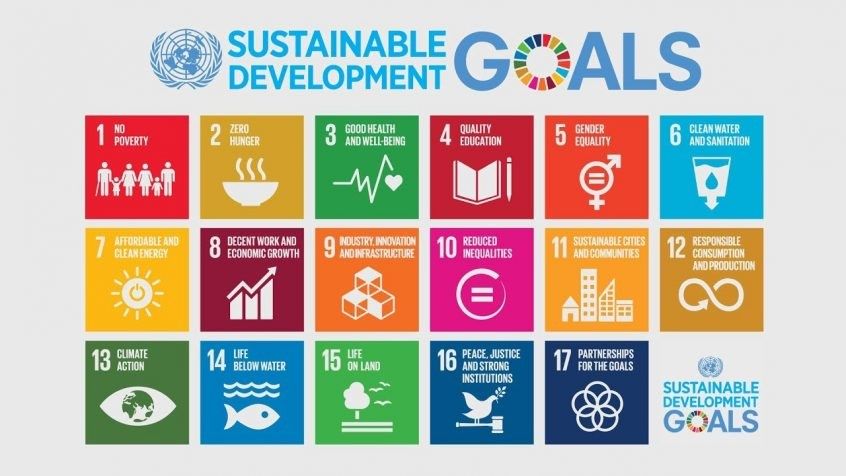 The company targets an improvement of good health and well-being through the reduction or elimination of harmful chemicals in cleaning products. Additionally, Everdrop addresses the aspect of clean water and sanitation as less chemicals and ingredients are used and therefore reduces the pollution of our valuable drinking water.
The startup also considers industry innovation and infrastructure as the development of innovative solutions. For example, the cleaning tablets have the potential to transform the cleaning product industry. Also the idea is aligned with the goal of responsible consumption and production, climate action and the preservation of life below water.
As the world population is predicted to reach 8.5 billion people in 2030 there is a significant urge to make changes and guide society towards a more sustainable lifestyle. Startups such as Everdrop know how to address young consumers and are the beginning to a much-needed change.